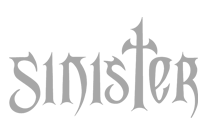 Gothic Dresses Are Never Out of Fashion
Our Gothic clothing line is very unique and you can buy Gothic dresses at affordable prices. Everyone has a dark side and we want to be a little freaky sometimes. Gothic fashion essentials are long skirts, lace, black corsets skulls, skeletons and bones or a cool par of Gothic boots under a Gothic dress.
Sinister Long Gothic dresses you can wear to a formal event especially when it's made of lace because lace is cool. Gothic dresses are made from brocade fabric with a high Victorian neck and corseted detail on the front. You can but them wit long sleeves or from a lovely stretchy fabric with printed skulls and vintage roses.
When you are in the Gothic scene you have to admit, Goths have sex appeal and style. Goth fashion goes with the colour black, flowing clothes, tight corsets and extravagant Gothic dresses. There are no boundaries and that's what makes Sinister Gothic dresses so great!
Black is a happy color!
The color black is mysterious, powerful and is associated with seriousness but also with sex, death and mystery. There's something about black, you feel hidden away in it and black is poetic and you can wear it anytime and at any age for any occasion. When buying a wedding dress you can choose from many dresses but a gothic wedding dress with lacey details and crystal accents will blow everyone away.
Too many events you can wear Gothic dresses, what about a prom dress in Gothic style. It's an ideal look for a party and also it will flaunt your feminine figure. Dresses in black is an absolutely must in the Gothic scene but you can mix it with all kind of colors, even neon colors. If you wear one of our special dresses you can wear black lipstick or an bold eyeliner with it to complete the look. The key is just being yourself but wearing gothic stuff will draw definitely attention.
People in black lead colorful lives!
Sinister online shop has the best Gothic dresses on stock from numerous brands worldwide. We have dresses and accessories from the best brands in the dark scene. We offer top quality woman's Gothic clothing with a range of tribal Gothic, horror and fantasy designs. Wearing a petticoat underneath makes you look styled and beautiful.
Our Gothic dresses
Our Gothic dresses have a romantic touch, a fetish touch, vampire look, medieval or Victorian look. Woman fall in love with strapless black dresses or a Gothic dress with a satin corset, lace skirt and satin underskirt. All our dresses are low priced and made from high quality material. You can shop for cocktail dresses, homecoming dresses, wedding dresses, evening dresses and many more.
There are many Gothic events too choose from and our collection is filled with divine Gothic novelties. Whatever you are looking for you will find something in our Gothic shop and to look good and unique.