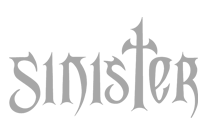 Are you looking for exceptional and unique Gothic clothing? Then this is the place to be. Sinister has been launched in 2000 and it has build op a good reputation within the Gothic scene.
We have a good eye for details and we have become experts in understanding the female body. We know what to show – or not 😉 We have a big collection of gothic cloting with beautiful pieces for women. We have regular sizes but plus sizes are also available!
Are you interested in buying goth cloting or accessoires? Good news! You can buy Sinister clothes in stores all over the world. You can check the nearest store in our store directory.
Join the Sinister brand for the best gothic clothing
We are just finished with a brand new webshop with goth clothes and accessoires and we would love to show it to you! To see our webshop it is required to join Sinister.
If you are al reader a member you can login here: Webshop
If you are not a member yet you can join us here: Join Sinister
More information
If you are not a member and you first want to know a little bit more about Sinister then please check out our photogallery. The photogallery gives you a nice impression of the brand Sinister.
Do you want to know where the best gothic events are? Then check out this page for the best gothic events all around the world!
---
If you have any questions or comments about Sinister then you can contact us trough our contact form.
And if you want to stay up to date with the last Sinister news then follow us on Facebook and Pinterest!