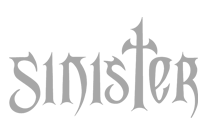 The Sinister website uses cookies. What is a cookie you are wondering? A cookie is a small file that is sent with pages from this website. Your browser stores these files on your hard disk. When you next visit our website, your browser sends this information back to our servers. This way, for example, your login data will remain on our website. There are different types of cookies: permanent cookies, session cookies and tracking cookies.
A cookie is a small file that is sent with pages from this website. Your browser stores these files on your hard disk. When you next visit our website, your browser sends this information back to our servers. This way, for example, your login data will remain on our website.
There are different types of cookies: permanent cookies, session cookies and tracking cookies.
PERMANENT COOKIES
These are cookies that Sinister uses so that we can recognize you on your next visit. Therefore you don't have to repeat your preferences every time you login and that saves you time. You don't want these cookies to end up on your hard drive? Then easily remove them through the settings of your browser.
SESSION COOKIES
With this type of cookie we can see which parts of the website you have viewed. With these cookies we can study the surfing behavior of the customers and adjust the website where necessary. This way we create an increasingly better and more complete website for you. These cookies are automatically deleted again when you close your browser.
TRACKING COOKIES
There's 2 types of tracking cookies. The tracking cookies of our own and the tracking codes of third parties. With the tracking codes of our own, we can see which companies from our network you visit even more. Rest assured; your data such as name, address and the like are used for this purpose. This serves purely to customize any advertisements shown.
With third-party tracking codes, any of our advertisers place cookies on your equipment. They can also create a profile from your surfing behavior to tune their advertisements.
GOOGLE ANALYTICS
We use Google analytics on our website. Through Google a small file is placed so that reports can be made about the visitors of the website.
Google may provide this information to third parties if they are required to do so or if third parties process the information on behalf of Google. Unfortunately, we have no influence on this. The collected information is kept as anonymous as possible. For example, your IP address is explicitly not included.
SOCIAL MEDIA
You may also find buttons for Facebook on our website. With these buttons it is possible to share or like information. The code for this has been provided by Facebook and cookies are placed on your website by this code. Unfortunately, we have no influence on this. For more information you should read the privacy statements of Facebook.
AVG COOKIE
Due to the new AVG law that went into effect on May 25, 2018 we now have a notification at the bottom of the website with the question whether you want to agree with our cookie and privacy statement. For this purpose a cookie will be placed on your computer indicating your choice. Do you disagree? Then some functionalities of the website such as contact forms will disappear.
RIGHT OF ACCESS, CORRECTION, AND DELETION OF PERSONAL DATA
Of course you have the right to ask for inspection, correction or deletion of the personal data. We advise you to arrange this trough our contact page. To prevent indentity theft, we can ask your identification. When it comes to viewing linked to a cookie, you must also send a copy of this cookie. You can find these in the settings in the browser.
DELETE COOKIES
You can delete the cookies in your browser. You don't know how? The help function existent in all browsers will help you along. If all else fails, then we recommend Googling it – then you know how it works in no time!
REMOVING TRACKING COOKIES POSTED BY THIRD PARTIES
As said before, certain tracking cookies are placed by third parties. You can delete these cookies centrally via Your Online Choices.